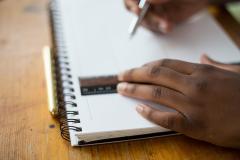 5 Steps to a successful website.
Behind every successful website is a solid planning.
This points you should be considered already absolutely at the beginning. The bottom line is that good planning results in even less work. There is nothing more annoying, time and money consuming than e.g. a layout or the entire project having to be completely redesigned later because it does not meet the requirements.
---
Set website goals
What do you want to achieve?
The first point, which must be planned, is the objective of the website. If it is clear what is to be achieved with the homepage, everything else is built on this goal. Possible goals for a website are:
Increase awareness
Be contacted by interested customers
Generate new customers
Sell products
More newsletter subscribers
The goals should be formulated as precisely as possible. This way you can see whether a strategy works or not and what might have to be changed. Stay realistic with your goals and only set yourself goals that you can implement concretely. Also determine which goals have absolute priority and order the goals according to importance.
---
Define target group
Who does your offer address?
Who should your website primarily address? Try to describe your ideal visitor group as precisely as possible. Keep in mind that you don't just want as many visitors as possible, but as many as possible who fulfill your goals.
For example, if you want to sell a product on your website, you need visitors who have an interest in buying your product. Try to imagine these visitors as accurately as possible. Where do they come from? How old are they? What gender do they have and what other interests or hobbies do they have.
The texts of the homepage, the layout and everything else will be built up later so that it appeals to your target group.
You can imagine, that a tourism website targeting backpackers will look pretty different than a website targeting families or retired couples.
---
Structure and Navigation
How do you want to structure your content?
Next, think about the basic structure of your homepage and the structure of your navigation.
Paper and pen is a very efficient, simple and easy to use tool compared to planning tools or planning software.
First, write down the titles of the individual pages of your website. Also plan a goal for each individual page and determine which target group should be addressed. For larger projects you can also create a mind map.
Then you plan the navigation. You don't have to think about the layout yet. But keep in mind that every visitor must be able to find the information he is looking for as easily and as quickly as possible. To make this possible, you have to consider the structure of your content and its linking thoroughly.
Paper and post-it stickers are here also a proven good working way.
The main navigation should not contain more than 6-7 points. Further pages are noted as sub-navigation points.
---
Story telling
When developing computer games, the first step is to hire a story designer. He thinks about the story of the game. Later graphic designers and programmers work on the visual implementation.
For websites this way is also very suitable.
Imagine your website as a multimedia story and think about what you want to tell and how you want to tell it. Storytelling is as old as humanity itself and it is still the most efficient way to communicate and share information.
Also plan how you present the person or team behind your website and business.
---
Create content and text
First comes the text and then the design.
Start from the very beginning with the creation of the texts. Texts are always the key to success on websites. All texts should be tailored to the target group and guide visitors to the execution of the points set as objectives.
Of course, the texts do not have to be perfected right from the start. I even advise against it. But make sure you take enough time to think about what you want to say and how you want to say it.
Also collect the pictures and videos that are available to you and think about which pages they fit best.
---
Concluding notes
When planning, however, it should also be kept in mind that points that were previously not thought of almost always appear during implementation. The plan must therefore be structured in such a way that certain points can still be changed later. The planning process is always something that runs through the entire project. Therefore the plan has to be reviewed again and again and adjusted if necessary.
And with website planning alone, of course, no project is finished. One should therefore not overdo it with the conception. At some point it is also about the implementation. However, in order for this to run smoothly, you first have to know exactly where you want to go.